Contact Us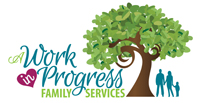 Phone: 719-641-8805
Fax: 719-687-1479
Email: Sandyplmft@aol.com
Address:
1767 S 8th St Suite 240
Colorado Springs, CO 80905

for children, adolescents, and adults.
---

appointments now available.
Call for more information.
---
Sandy Plotner, LMFT RPT
Licensed Marriage and Family Therapist
Registered Play Therapist

Welcome to my website.
At anytime during our lives we may face challenges that seem to derail us. When this happens, children, adolescents, and adults can find themselves in need of guidance and support.
At A Work In Progress Family Services, therapeutic interventions are rooted in respect, acceptance, and validation, and can help even the youngest child find their way.
Whether this is a recent challenge or a lifelong one, A Work in Progress Family Services provides compassionate support to help you or your child find the way. I provide each client with the individualized treatment plan that works best for your child and family; presented in a way that you and your child can understand.
I invite you to look around my website and at the various links and resources then call me for more information or to set up an intake session.